MORRIS LOUIS
(1912 – 1962)
Works of intense feeling and majestic power
Working from the 12 x 14 foot converted dining room of the house he bought in Washington, D.C. with his wife Marcella, Morris Louis created some of the most ethereal and monumental paintings (some as large as 23 feet wide), in his enigmatic and unique style. With his good friend, Kenneth Noland, a fellow painter and instructor at the Washington Workshop Center of the Arts, Louis traveled to New York City in 1953 and they visited galleries where they saw paintings by Franz Kline and Jackson Pollock. That same week, they visited Helen Frankenthaler's studio and were very impressed by her stain paintings.
Louis explored this technique for the rest of his life, becoming one of the earliest exponents of Color Field painting. With Noland and other Washington painters, they formed an art movement that is known today as the Washington Color School. Like a mad scientist, he abandoned the use of brushes to apply paint and instead developed his own technique of pouring rhythmic band-like pours to create works of intense feeling and majestic power. In the late 1950s, Morris moved into the prime of his career, creating a stunning series known as Veils.
In the summer of 1960 Morris began to create what he regarded as his most successful series: the Unfurleds.
A beacon of Abstract Expressionism, his own intensely bright light was extinguished all too soon, when in July of 1962 he was diagnosed with lung cancer, brought on by inhaling fumes from the paint with which he worked, and died a few months later. We are thankful for the magnificent body of work he left behind that we continue to treasure for all eternity.
Taba Dale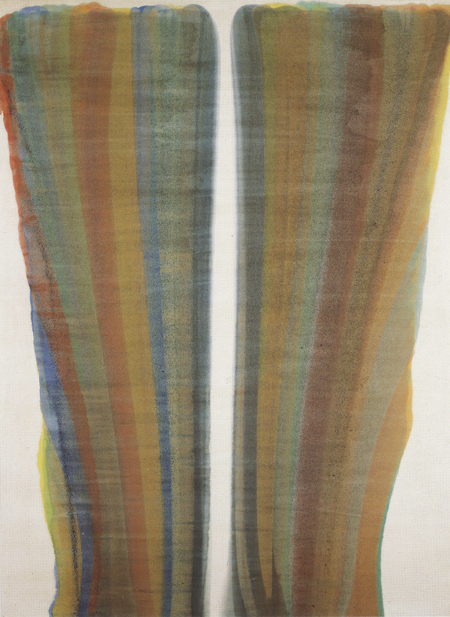 Morris Louis – Air Desired 1959 Magna on canvas
Our expertise is not limited to the selected artists presented on our website.
Please feel free to contact us about your own art preferences.