MORRIS GRAVES
(1910 – 2001)
Vision of the wholeness of life
Profoundly original, Morris Graves created metaphysically charged paintings of birds, flowers and vessels that were stark and serious. He created art to celebrate his vision of the wholeness of life. He was born in Oregon and was one of eight children. Some years later, the family settled north of Seattle and after dropping out of high school, Graves became a steamship hand for the American Mail Line. When he visited Japan he wrote: "There, I at once had the feeling that this was the right way to do everything. It was the acceptance of nature not the resistance to it. I had no sense that I was to be a painter but I breathed a different air."
He was a self-taught artist with natural understanding of rich and radiant color. Inclusion in the Museum of Modern Art's American 1942: 18 Artists from 9 States catapulted him to national fame. Having begun his lifelong study of Zen Buddhism in the early 1930s, when Graves met painter Mark Tobey he was influenced by his calligraphic line, and went deeper into East Asian philosophy and mysticism. The work he produced over his long career as one of America's most highly regarded painters of the transcendental, allows us to breathe a different air.
Taba Dale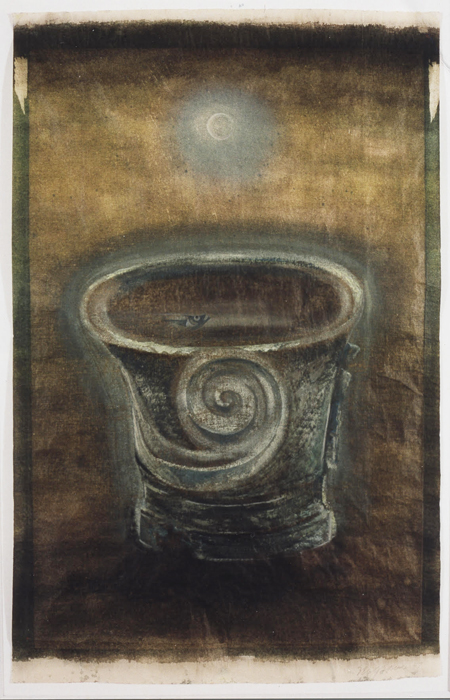 Morris Graves – Han Bronze with Moon, #1 1947 Tempera and watercolor on paper
Our expertise is not limited to the selected artists presented on our website.
Please feel free to contact us about your own art preferences.